Bed Bath & Beyond uses Nexla for rapid data replication into BigQuery
Nexla is the data platform that Bed Bath & Beyond uses to parse and ingest inventory, order, and finance data in and out of their central BigQuery data warehouse to all of the necessary data systems and apps – both batch and streaming.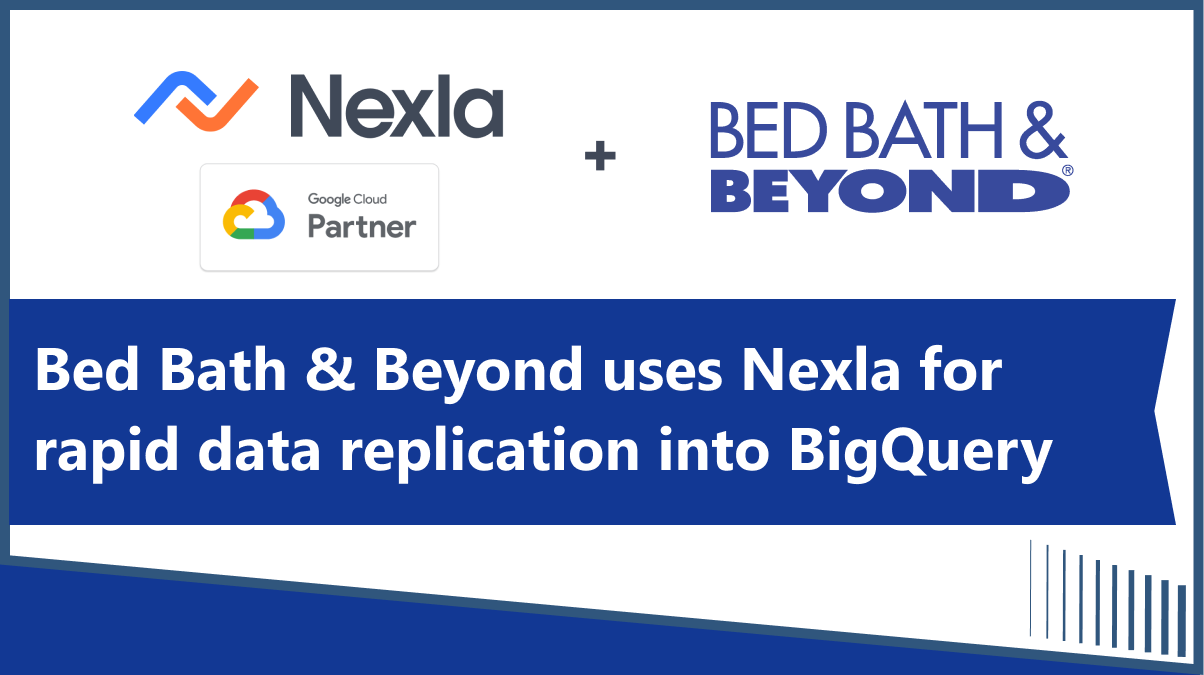 The Challenge
Bed Bath & Beyond's on-prem, legacy ETL tool required high overhead to maintain, scale, and code with specific developers assigned to this tool. A simpler tool was required to replicate data from any source into BigQuery, while parsing data. Not just developers and Data Engineers needed to use it, but analysts and other data users as well. These flows also needed to scale 3-5X at holiday peaks.
The Solution
Using Nexla, Bed Bath Data Engineers and Analysts are able to build all of the specific flows they need into BigQuery. Nexla parses any source into JSON format regardless of real-time streaming or batch mode, enabling integration quickly. From there, the Data Engineers and Analysts are able to replicate into BigQuery without coding custom solutions, connecting every system needed as data flows.
The Results
Bed Bath now processes over a trillion records each quarter into their BigQuery warehouse. That data is then sent to ERP and inventory systems and marketing apps. Setting up these complicated flows quickly in Nexla with no/low-code saved Bed Bath limited Data Engineering resources and enabled fast adoption of the new system without relying on custom jobs, while the flows scale automatically.
Nexla was able to scale past BigQuery bulk load limits by building a streaming style BigQuery connector, and add real-time record processing to the flow as data can now constantly stream into BigQuery at the time of order. Now, Bed Bath & Beyond can process unlimited records into the BigQuery warehouse, with the added benefit of real-time streaming. 
Read more on Nexla's Google Partner Directory listing, or reach out for a personalized demo and trial to see Nexla's capabilities for yourself.

About Bed Bath & Beyond 
Bed Bath & Beyond Inc. is an American chain of domestic merchandise retail stores. The chain operates many stores in the United States, Canada, Mexico, and Puerto Rico. Bed Bath & Beyond was founded in 1971. It is counted among the Fortune 500 and the Forbes Global 2000.
Unify your data operations today!
Discover how Nexla's powerful data operations can put an end to your data challenges with our free demo.