Data Integration with Nexla
Connect Anything to Everything: Data, APIs, Streams
All Integration Styles Converged! ETL, ELT, API Integration, Reverse ETL, API Proxy, DaaS
Modern teams need to work with new data systems every day. They can't scale with point tools with limited connectors for every use case.
Easily Integrate Any Data from Anywhere
Integrate and access data from Files, Data APIs, Databases, Data Warehouses, emails, and any source you can think of.
Eliminate Integration Backlog
Give data users the ability to create data pipelines with a no-code, self-service UI. Data engineers can freely customize using powerful APIs, SDK, and CLI.
Address All Integration Styles
ETL, ELT, API Integration, Data as a Service, or API Proxy – we have you covered, including your governance and cataloging needs.
Universal Connectors
An adaptive integration engine for both sources and destinations means you don't need to create a new connector every time a new data source becomes available. Our standard connectors have been proven for hundreds of APIs and file-based sources.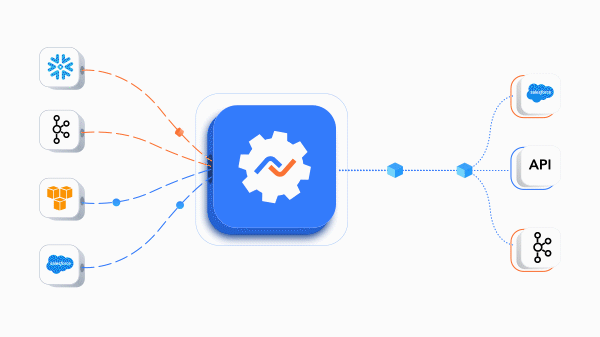 Any File Source, Every Format
For large data volumes, files are one of the most effective and efficient ways to move data. No matter how you get your files, Nexla has a way to support it.
Supported file sources include FTP, SFTP, FTPS, S3, Dropbox, Box with support for many formats including Excel, CSV, Fixed–width, Delimited text, AVRO, Parquet, JSON, XML, EDI, ORC, GROK
Files CDC: Automated tracking of previously ingested files
File-level re-ingestion
Schema unification across file formats
API Source Integration
Nexla's powerful interface for API-based data sources gives you the ability to connect to any REST or SOAP API without the need for a pre-configured connector. Bring your credentials and get started immediately.
Out-of-the-box support for various API authentication mechanisms including Oauth, HMAC, JWT, as well as basic and header-based authentication.
Easy API setup for multi-level iteration, chained API calls, and advanced pagination, all with automated support for rate limits and optimized throughput.
Database and DWH Sources
Connect with MySQL, Postgres, Redshift, Snowflake, or BigQuery as a data source. Nexla provides change detection, incremental loading, bulk loading, and query-based loading of data so that users enjoy a unified experience. Under the hood, Nexla provides optimized data flows to each specific database.
Emails and Attachments
It's easy to share small amounts of data through email; an Excel or PDF attachment, an insurance document needing OCR, or just the email body are full of data, simple to send, and an intrinsic part of modern life. With Nexla, a periodic email can easily become a data pipeline delivering data to your favorite database or API. There's no need to copy-paste from a spreadsheet and it comes with full access to all Nexla features including error management, data validation, audit logs, and lineage.
SaaS and Data Providers
DATA FROM SAAS SERVICES
With our powerful API connectors, it takes only minutes to connect to hundreds of SaaS services including Salesforce, Google Analytics, and Zendesk. Our API templates make it even easier to get going.
DATA PROVIDER APIS
Whether it's news, social media, weather, payments, cybersecurity, movies or more, there are hundreds of private and public APIs that provide high-value data for your industry. Connect to all this data in just a few clicks without code.
Any API Destination
Send data from any source system like files, databases, or streams to any API of your choice.
Operational business data from Snowflake to Salesforce? Yes.
CSVs from a customer to an internal API in JSON format? Sure.
Set up these data flows in minutes.
Flow Data to Any Warehouse
By far the most popular choice for analytics is to get data in your Snowflake, Redshift, or BigQuery so it powers your Analytics and BI applications. You have the flexibility to set up the table and schema as you like and choose Upsert or Insert mode. Data will be streamed into your warehouse with auto-optimized batches for performance.
Deliver Files to SFTP or S3
Deliver data as Parquet or Avro files into Amazon S3 for processing, as a CSV into an FTP server, or as an Excel file into Dropbox. Nexla gives you the flexibility to deliver data in the format best suited for the downstream application.
Data in Your Preferred Tool
Bring the data you want into the application of your choice. Whether you are a Data Scientist needing data in a Pandas Data Frame, an Analyst who wants data in Tableau, or a business user who needs data in a spreadsheet, Nexla brings the data into the application of your choice. Now you have the data you need at your fingertips and can innovate at the speed of business.
Data Integration with Nexla
Get Demo